Hansa Borg & Solera Beverage Group welcomes three new and experienced salespeople and sommeliers to its wine team.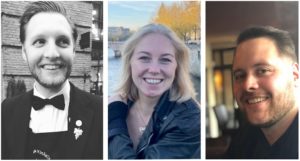 Simon Valland has been appointed as the new Area Sales Manager Wine in Western Norway, Cathrine Vangen in Eastern Norway, and Emil Kringhaug in Trøndelag.
«We are pleased to welcome three new and experienced sales representatives to our team, who will help strengthen our visibility and local presence in Norway. Cathrine, Emil and Simon all have extensive experience in the industry and will work with the sale of beverages from our extensive portfolio, with emphasis on wine, to the On-Trade market," says Simon Pizzoni, Head of KAM and Wine at Hansa Borg & Solera Beverage Group.
Hansa Borg & Solera Beverage Group has a clear ambition to be the preferred choice for customers and partners in Norway.
«To succeed, we need to be close to the market and close to our customers. The new hires give us an even stronger foothold locally and support our ambitions to be a professional and informed partner for our customers,» says Pizzoni.
Meet our new employees:
Simon Valland – Area Sales Manager Wine, Western Norway
Simon started his career with us in Oslo and has returned home to Bergen to continue everyday life with new colleagues at Kokstad. He will be responsible for existing and new customers along the west coast of Norway. Simon is a trained sommelier and has extensive experience in the On-Trade industry. He has worked at restaurants such as Altona, Pergola, Hardangerfjord Hotel, Kippers and Lysverket to name a few.
Cathrine Vangen – Area Sales Manager Wine, Eastern Norway
Cathrine Vangen has experience from the restaurant industry both as a bartender, waitress and sommelier. In addition, she has worked with On-Trade and Off-Trade sales for Lervig. Most recently, she worked as salesperson and product activation manager for Moestue Grape Selection. Cathrine will be based in Oslo, with her customer base in Eastern Norway.
Emil Kringhaug – Area Sales Manager Wine, Trøndelag
Emil Kringhaug has extensive experience in the On-Trade industry, with experience from both individual restaurants and bars to major hotel chains in roles as waiter, restaurant manager and general manager. Most recently, he worked as a self-employed consultant in the On-Trade industry, where he raised the competence and quality of hotels and restaurants. Emil will be based in Trondheim, with Trøndelag and northwards as sales area.